Writing Workshop for Teens Impacted by Alcohol
Sheri and Matt tried to shield their kids from the impact of his drinking and their frequent disagreements. Matt thought they were quiet enough as they whisper-fought well into the night. The kids acted like everything was fine the next morning, but Sheri knew better. Even if they couldn't hear the words, their kids could feel the tension, the mood swings, and the overwhelming sadness that enveloped the whole family at times.
Eventually, years into Matt's sobriety, the couple asked their kids to tell them what they remembered about their father's drinking, and how keeping the family secret impacted them. The stories of pain, fear, and anxiousness came pouring out. Sheri and Matt heard how their own kids blamed themselves for the dysfunction in the family. They shared the agony behind the smiling faces in the vacation photos. They finally felt safe telling the truth – their truth about the scars alcohol left on the family.
They each told their own true version of their developing story.
Secrets are painful. When our insecurities overwhelm our instincts, and we are not sure what to believe, we feel trapped and stuck. But when we find a safe place to share our stories with people who truly understand, the healing power of that connection makes room for hopeful new chapters.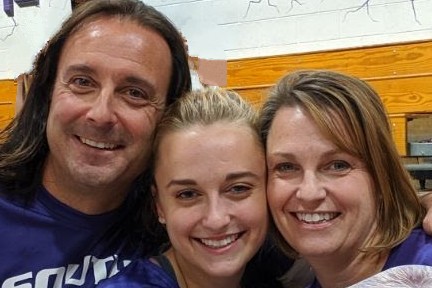 The Developing Story Writing Workshop is for teenagers who have been impacted by the alcohol consumption of someone close to them. It is led by Sheri's and Matt's young-adult daughter, Cathryn Salis. The weekly workshop sessions are hosted on private and secure ZOOM video group calls. They are never recorded, and each session has a unique meeting ID and passcode.
In advance of the writing sessions, participants receive an email with the topics to be addressed, and the ZOOM link for the upcoming call (parents receive the topics, too, but only the teens receive the ZOOM links). During the sessions, Cathryn shares the specific writing prompt, and gives participants time to write. After the writing period, participants are given the chance to read what they've written, and receive positive and supportive feedback from the group.
Cathryn, Sheri, Matt – none of them are psychologists or therapists. They are all writers who know that this is different than therapy. While this should never be confused for a clinical, licensed, mental health session, there is something very therapeutic about sharing your story in a safe environment with people who get what you are going through.
Writers do not have to read their writing out loud. While there is lots of comfort available by resonating with others, even just writing our stories out for our own private benefit is a big part of the healing process. If participants are not sure they are ready to open up in that most vulnerable way, they are still welcome to join us to write, and then listen to the stories of others.
Cathryn's Story
We encourage you to listen to Cathryn's story of spending her developing years living with the chaos and trauma of her father's alcoholism, and her mother's reaction to his addiction. In this episode of the Untoxicated Podcast, Cathryn, Sheri and Matt talk through Cathryn's developing story. Once you've listened to this heartfelt conversation of pain and redemption, we hope you'll have a good vibe, and will be prepared to take the next step in the enrollment process.
(If you are new to listening to podcasts, you can listen using the podcast player right there in our Untoxicated Podcast website, or you can download the episode using your favorite podcast app like Google Podcasts or Apple Podcasts. Search for the Untoxicated Podcast, and scroll to episode number 200.)
The Developing Story is a donation-based feature program of our nonprofit called, Stigma. We ask all of our participants for a $30 per month recurring donation to keep this mission alive. If at any time you do not feel The Developing Story is a good fit, you can cancel your recurring monthly donation with our best wishes for your continued growth and healing. But the recurring donation comes later. For now, we want to connect with you if you think writing might be helpful for you or your teen.
If you are interested in taking the next step, please complete the enrollment form below. You are not making any commitment at this point. You are just expressing an interest, and we will be back in touch to move forward together. If you are a parent or guardian of a teenager, you are welcome to complete the enrollment form for your teen. If you are a teenager, you are also welcome to express your interest here for yourself. As part of the enrollment process, a parent or guardian's consent will be eventually required, but consent is not required to express interest and begin the enrollment process. The things to which a parent or guardian will eventually be consenting are listed below the enrollment form for your consideration.
Enroll in The Developing Story
Boundaries & Consent
As part of the enrollment process, a parent or guardian will eventually be asked to acknowledge these boundaries we use in The Developing Story, and provide consent for participation of minors (under age 18). Sheri, Cathryn and Matt have all received mandatory reporter and suicide prevention training in Colorado. While Colorado law does not apply nationally or internationally, we want you to have access to the training that helped us develop our boundaries. If you are interested in the free and public mandatory reporter training from the Colorado Division of Child Welfare, you can check it out here.
Danger to Self or Others
It is a false, dangerous and unfortunately common assumption that asking a young person if they are considering suicide or self harm puts thoughts of suicide or self harm into their head. We never hesitate to ask participants in our programs if they are considering suicide or self harm, either in the group setting or privately, if we hear or sense something that is concerning. If the concern is not resolved based on the participant's answer to the questioning, we get the parents and/or the appropriate authorities involved. Likewise, if one of our program participants indicates an intention to harm others, we take the appropriate steps of alerting the parents and/or the authorities. At no time do we assume responsibility for the health and safety of any of our participants, their friends or their families, but we do our best to share red flags when we see them.
Substance use falls into the category of harm to self or others. However, we do not automatically alert parents or the authorities about alcohol or other drug use. The same holds true about adolescent sexual activity. It is vitally important that our participants find The Developing Story to be a safe place to explore emotions, share experiences and find the healing power of authenticity. We do our best and use our best judgement. For example, if a 17-year-old writes about attending a high school party where she drank beer and had sex with her boyfriend, it is highly unlikely that we will find cause to alert the parents or authorities. If, however, one of our minor participants shares that he is stealing his parent's prescription opioid pain killers, and dabbling with shooting up heroine, or that he is having sex with his geometry teacher, these experiences would warrant notification action on our part. There is gray area here. If you are not comfortable with us doing our best and using our best judgement, then The Developing Story is not a good fit for you.
Sexuality
The Developing Story is absolutely a safe place for our participants to explore and express non-heteronormative sexuality. We do not alert parents about young people talking about transgender, gay, lesbian, queer, nonbinary, gender fluid, asexual, bisexual, intersex or any other sexuality issues. Exploration and consideration regarding gender and sexual orientation are healthy and natural parts of growing up, and we are not a part of closeting people as they develop into the unique and wonderful persons they are meant to become.
Physical or Sexual Abuse
Physical or sexual abuse explicitly discussed, implied or suspected is reported to the parents and/or the appropriate authorities.
Language
It is impossible to discuss honestly the challenges and struggles of growing up without making room for slang and profane words. We do not encourage the excessive use of profanity, nor do we make room for cursing just for cursing sake. But our participants do use and hear words and language that teenagers commonly use. If you have ever been a fly-on-the-wall in a middle school hallway, you will likely find the expressive language in The Developing Story to be tame by comparison.
Session Technology & Participants
The Developing Story Writing Workshop sessions are conducted using ZOOM Video Communications. Generally, the participants are in their teen years, and the facilitator is an adult. If a 19-year-old turns 20, they are not automatically and immediately removed from the group. Parents, guardians and siblings are not included in the sessions (siblings require a separate enrollment and consent form). We reserve the right to make appropriate inclusion decisions.
Our boundaries are under constant consideration and updating. The current version of our boundaries is included at the bottom of the session email communication with participants and parents, and the most up-to-date version is always available on this public web page. We reserve the right to make updates to our boundaries that are in line with our intention to protect our participants while fostering a safe and healing environment. We will make such changes without seeking new consent from parents and guardians. Should our boundaries change significantly, new consent will be required. The significance level of any changes is at our discretion and determination. We are always open to feedback and suggestions, and parents can always withdraw consent and terminate the participation of their minors by email at any time.