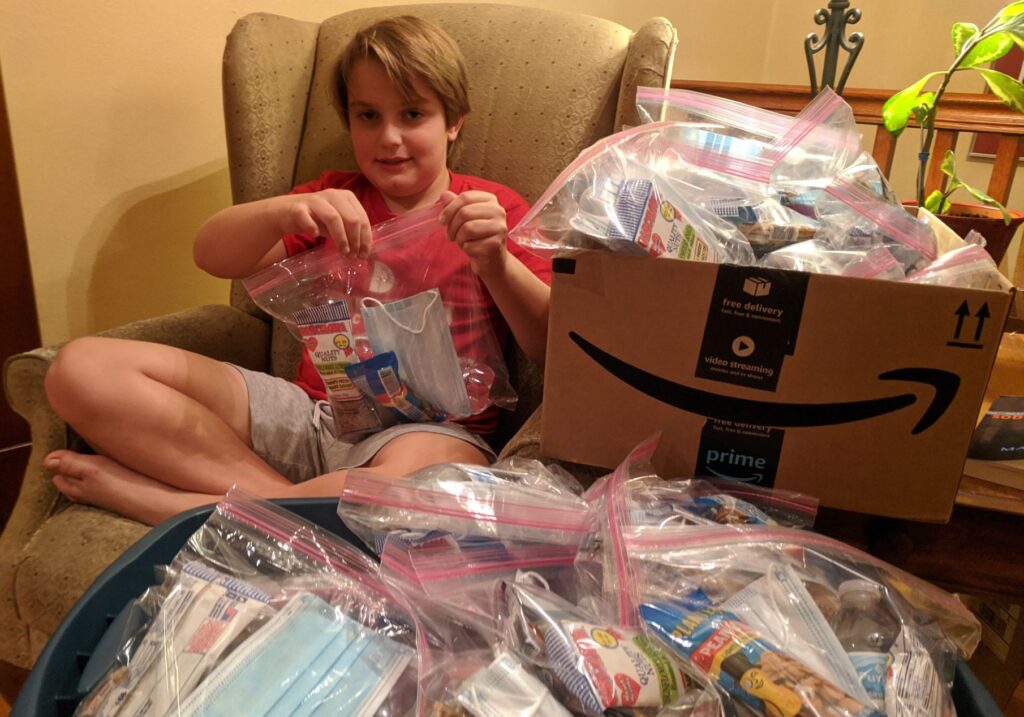 These are our emergency relief food bags. Here at Stigma, we call them "Neighborlies." We give them to our homeless neighbors, because it seems like the neighborly thing to do. And now, we want to give some neighborlies to you. You're not homeless. You're not food insecure, but still, we want you to be the recipients of our Neighborlies, and for free. We are not asking for a donation. There are no strings attached. By taking some Neighborlies off our hands, you will be helping us in our mission to crush the stigma associated with addiction, homelessness and food insecurity. Please let me explain.
This isn't some random assortment of cheap, nutritionless food. Every item in our Neighborlies was selected for a specific reason. We've worked with The Addiction Nutritionist, Kelly Miller, to choose foods that help people who have suffered from addiction to regenerate neurotransmitters and restore balance to their brain function. We've chosen high protein, high energy foods to help our neighbors survive life on the street. We've intentionally avoided added sugars and processed carbs because our struggling neighbors deserve the dignity of food with a nutritious purpose.
So what does all this have to do with you? We want you to keep some Neighborlies in your car. When you are stopped at an intersection, and one of our homeless neighbors asks for your help, give them a Neighborly. It's as simple as that. All of the items in these bags are shelf stable for longevity – no refrigeration required.
We can carefully select the items we put in the Neighborlies. We can procure the food and assemble the bags. What we can't do alone is get the food in the hands of our homeless neighbors. We need you to be our distribution network. And all you have to do is have a Neighborly ready when you come across someone in need.
So how many Neighborlies would you like? To be a Stigma volunteer and help us distribute our Neighborlies, all you have to do is:
Reply to this email (

[email protected]

) to let us know how many Neighborlies you'd like to pick-up to start.
Tell us when to expect you. The pick-up location is on the southeast side of Denver near the intersection of South University Boulevard and East Alameda Avenue.
We'll have your Neighborlies ready at the designated time (you can give us a time range – it doesn't have to be specific). We'll give you the specific location and pick-up instructions.
COVID makes serving our homeless neighbors infinitely harder. We are limited in the interactions we can have. Our Neighborlies are a natural transition of the work we do – and we hope our Neighborly program long outlasts the virus.
Please be a part of getting this new program off the ground. All it takes is a willingness to be a little bit neighborly to our Denver friends who need us now more than ever.