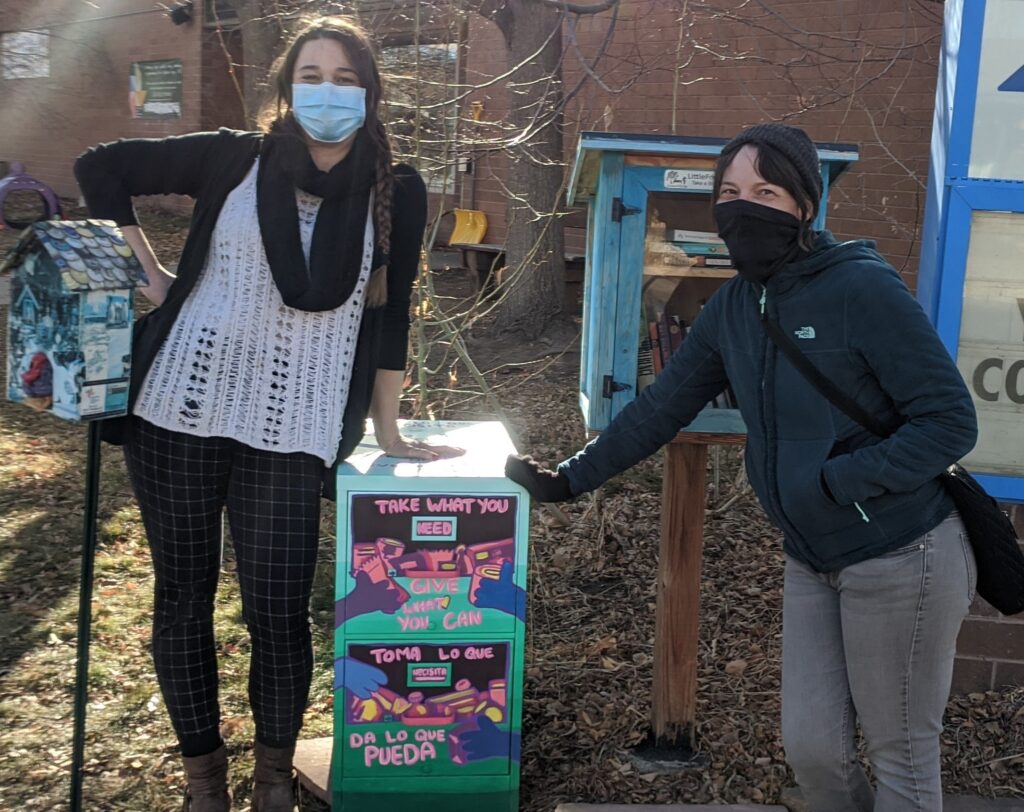 Take what you need, give what you can. Food with Dignity!
It started as an idea in the fall shared with us by one of our Stigma volunteers named Sarah. And now, to start this new year, we have deployed the second Fooding Cabinet to get food to people who could use a little neighborly help to make it work right now.
Our neighbor and Stigma Fighter, Erin, got involved. She contacted the Washington Street Community Center near her home in Southeast Denver, and asked if they would host a Fooding Cabinet. WSCC Executive Director, Jolie, was eager for the opportunity to offer another resource to the community she serves. Both Erin's and Jolie's faces were smiling ear-to-ear under those masks as we installed the Fooding Cabinet last week, and filled it with Neighborlies (our emergency relief food bags).
Erin will keep an eye on the Fooding Cabinet – ensuring it is maintained and stocked with food. It is our goal that the neighborhood embraces the Fooding Cabinet, and some people take what they need while others give what they can. But anytime Erin needs more Neighborlies to meet the demand, we will be ready to provide them for her.
Are you interested in deploying a Fooding Cabinet in your neighborhood or on a regular commute? Erin made deploying Fooding Cabinet #2 look easy…because it is! All it takes is a few minutes a week to maintain, and an initial contact with a business owner, a library, a school etc. willing to provide a couple of square feet outside their building. There is no expense involved. It just takes a big heart and desire to connect to our neighbors.
Sarah has worked with a local artist to get additional filing cabinets converted to Fooding Cabinets.
We are ready to go! Are you?
To express interest in deploying a Fooding Cabinet, or if you have questions about this project or our Neighborlies, please contact Matt via email. Thanks, Stigma Fighters!