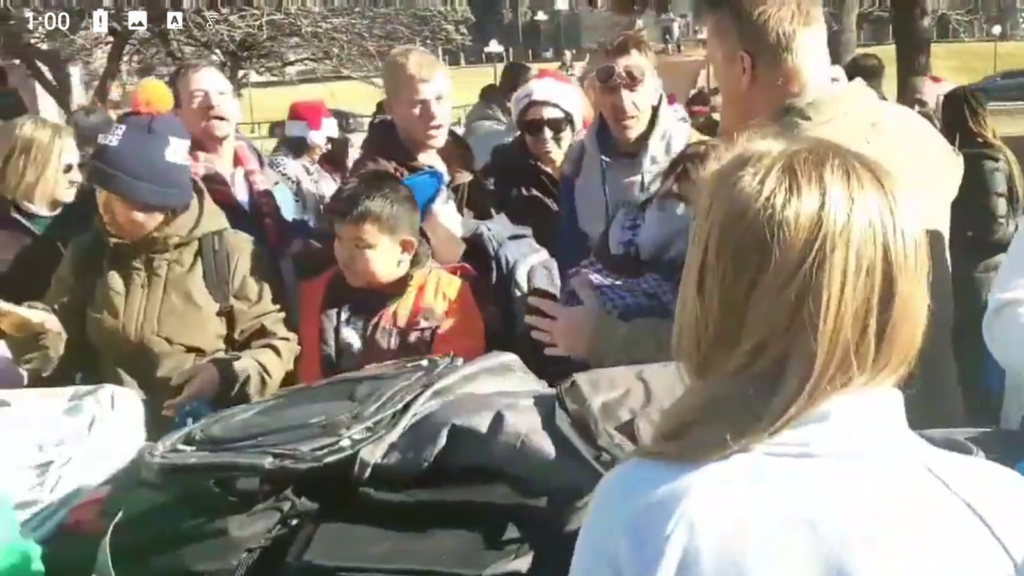 Last year we brought 640 rolling suitcases and backpacks, and we ran out in under 30 minutes. It was more than two years ago, and we did our best. But our best wasn't good enough.
For the third consecutive year, we are excited to be participating in Christmas in the Park in downtown Denver. This event is a coordination of churches, businesses and generous individuals who leave their warm houses and sparkling Christmas Trees on the morning of December 25th to provide a Christmas to our homeless neighbors who are fighting for their survival.
Nearly a thousand of our city's homeless receive gifts of food, clothing, coats, gloves, winter hats, warm socks and other essentials to help them survive living on the cold and desperate streets.
Again this year, Stigma, in cooperation with Washington Park United Methodist Church, will provide rolling suitcases and backpacks for our neighbors in need. The homeless population is enormous and growing, and we need your help.
Now that summer vacation time is over, don't bother putting those rolling suitcases back into the basement when you can donate them to such a worthy cause and treat yourself to new luggage next summer. And we would be honored to be the new home for your old school backpacks that you replaced a few weeks ago when the new school year began.
Donations of rolling suitcases and backpacks can be dropped off at Washington Park United Methodist Church at 1955 East Arizona Avenue, Denver, Colorado 80210 weekdays from 9am to 4pm. To arrange for a special dropoff time, please contact Sheri Salis at sheri@theStigma.org.
Last year, your donations at the bakery made a huge impact on our ability to make winter survivable for our neighbors in need. We hope you will again dig deep and help us approach our goal of a thousand rolling suitcases and backpacks this year (rolling suitcases are in the highest demand).
Please check out this video our daughter, Cathryn, made after the Christmas morning event last year.
After a few years of experience with this mission, we have found excellent sources for inexpensive rolling suitcases and backpacks. If you would prefer to make a financial contribution, we will make sure your money goes a long way.
It is not too early to bring your donation. We have a long way to go to get to a thousand rolling suitcases and backpacks, so we had best get started.
Thank you for your support of Stigma, and your efforts to make Christmas a little more special for all of us.
Matt Salis