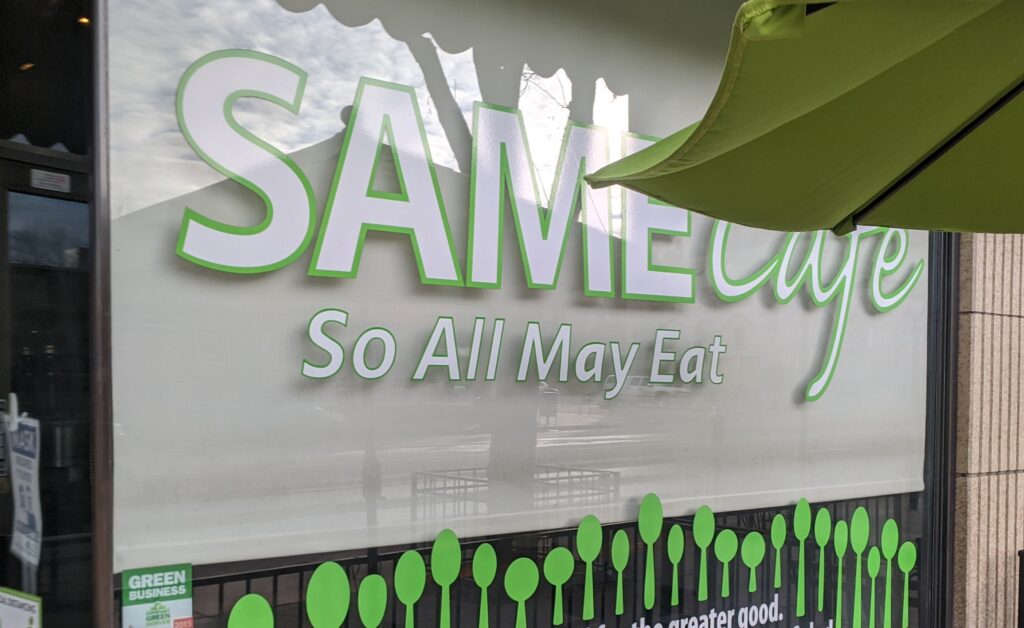 "I can shake off everything as I write; my sorrows disappear, my courage is reborn." – Anne Frank
Writing is powerful. When we write, we dig deep and discover truths about ourselves that we can't access simply by thinking or talking. Writing is therapeutic. Writing is inspiring. Writing is freedom and growth.
Come write with us on Thursday mornings at the SAME Cafe!
The Story Writing Workshop is one of our favorite programs that we run here at Stigma, and you are invited to join the fun and exploration. No writing experience is needed. We will help you build your storytelling muscles in a safe and empowering environment.
Here is how it works: We meet at 9am on Thursday mornings at the SAME Cafe at 2023 East Colfax Avenue in Denver. We discuss the writing skill we are working on for the day. Examples include telling stories engaging all five senses, detailed scene setting, character development, and considering various perspectives. Our instructor leads the discussion. Your only preparation is to bring an open mind. Then we share a writing example or two that demonstrates the kind of writing we discussed. Next, the writers are given a writing prompt and plenty of time to write their stories.
And we put pens to paper.
At the end of the workshop – that's when the magic happens. All writers are invited to read their writing to the group. The one and only rule of The Story Writing Workshop is that all of the feedback must be relentlessly positive. We come together to write with vulnerability and honesty, and we deserve to be rewarded for expressing our truth. It is a safe environment full of hope and love.
The Story Writing Workshop runs for 90 minutes on Thursday mornings from 9am to 10:30am. Coffee, tea and writing supplies are provided, and there is no charge to attend the workshop. At Stigma, we believe strongly in the value of building community. Our partners at the SAME Cafe agree. Please consider joining our writing community!
We want to re-emphasize that no writing experience is needed. In fact, there are real advantages to working with a fresh, clean page. As any decent writer will tell you, the first step to becoming a writer, professional or amateur, fiction or nonfiction, is always the same. The first step to becoming a writer is to start writing. Come write with us this week.
Stigma and the SAME Cafe follow all government protocols to prevent the spread of COVID-19. The current capacity at the cafe, based on city and state rules, is ten writers, all masked and distanced. Please send an email to Matt to confirm your desire to attend, and we will be sure to save you a spot. And please remember to bring your mask.
You have a story to tell. We just know you do. Let's get started together at The Story Writing Workshop.