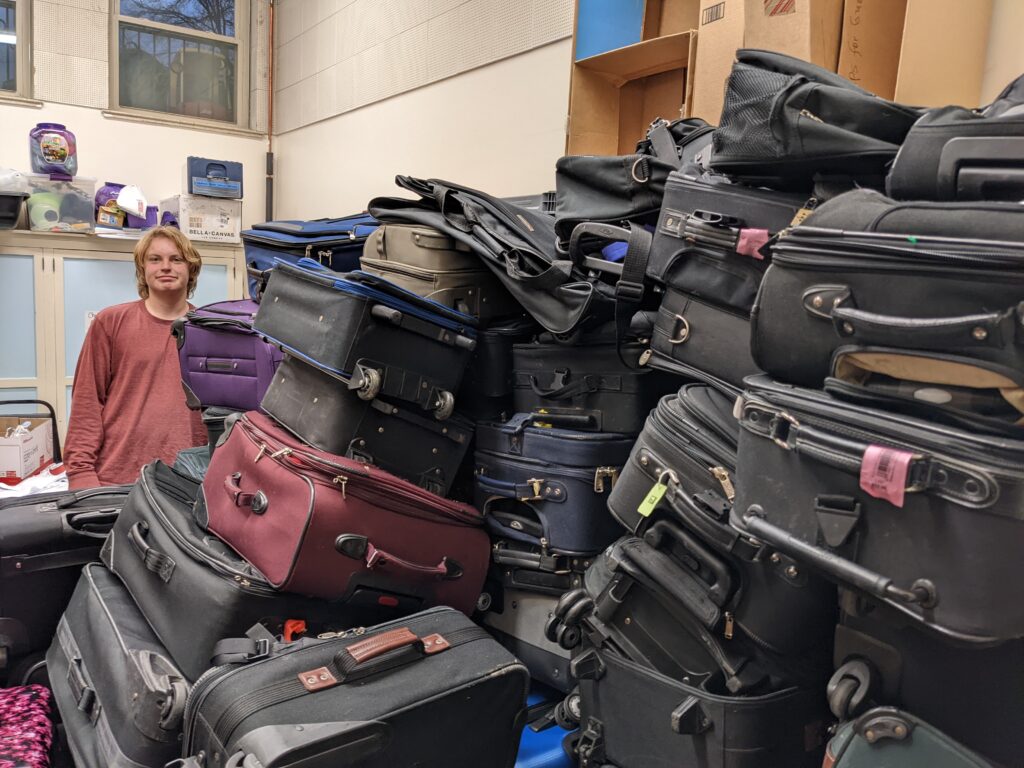 We were "sold out" again this year. We brought over 200 rolling suitcases to our annual Christmas Day event to serve our homeless neighbors, and we gave every single one of them away. We also brought 1,200 backpacks, so everyone in the park that day received multiple gifts to help them transport their belongings and survive on the cold winter streets.
All fall, we ask for your support. We ask you to donate rolling suitcases, and we ask you to donate money. And this year, as is the case every year, we are uncertain how we are going to pull it together, but you always come through for us in the end. Thank you for all who donated, and all who participated, to make this our most successful Christmas in the Park event ever.
But a successful event only shines a spotlight on the size of the need. People in Denver are hurting, and that's why we can't rest in our work to crush the stigmas associated with hunger, homelessness and addiction. It is a new year and a new opportunity to help us serve our community. Check out some of our other ongoing projects, and consider getting involved.
Stigmattack
We supply healthy, fresh, local whole foods like meat, eggs, dairy, fruits and vegetables to food pantries in Denver Public Schools. This spring semester we are adding two additional DPS schools to our roster bringing our total number of pantries served on a weekly basis to seven.
Addiction Recovery
We proudly operate three recovery programs for people suffering from addiction. SHOUT Sobriety is for high functioning alcoholics in early recovery. Our Echoes of Recovery program is for the loved ones of alcoholics. And our Marriagevolution is a once per month program for couples who are struggling to recover their marriages from alcoholism.
Neighborlies and Fooding Cabinet
We supply thousands of emergency relief food bags each year to our homeless and hungry neighbors. We have a variety of distribution channels, including repurposed filing cabinets we use to get the food to the people. Consider "adopting" a Fooding Cabinet in 2022.
The Story Writing Workshop
We facilitate seven ongoing sessions of The Story Writing Workshop where we give our participants instructions, writing samples and a writing prompt to help them unlock the stories within them. One of our The Story Writing Workshops is open to the public. Please join us Thursday mornings at 9am at the SAME Cafe at 2023 East Colfax in Denver, 80206.
Media
We produce the Untoxicated Podcast, the blog Sober and Unashamed, and we have published three books including Amazon #1 New Release soberevolution: Evolve into Sobriety and Recover Your Alcoholic Marriage.
Christmas might be over, but CIP is only one of the many projects in which you can get involved and show your support. At Stigma, we are proud to serve our communities, and we are thrilled to have you behind us in the fight to crush the stigma!